Kavi Jezzie Hockaday was diagnosed with Ulcerative Colitis 10 years ago, and was given the same 'you need to go on Immune Suppressant drugs for the rest of your life' prognosis as I recently received.
Kavi, however, took the natural route, and utilised Ayurveda, Chinese Medicine and Elimination diets, as well as undertaking a huge inner transformation, mentally, emotionally and spiritually.
We were introduced to Kavi and his wonderful wife Amoda Maa – a beautifully-clear spiritual teacher – a couple of years ago, and we almost-instantly became close friends.
His story and advice has been a huge source of inspiration and confidence for me, and I hope that it may be for you now, too, as he is about to release a book about his healing journey; he now lives symptom-free, and is a wellness and transformational coach, helping others clear their issues and dis-ease, to live their optimum life.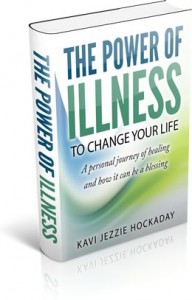 The book is called 'The Power of Illness to Change Your Life' and it is out on Kindle on 23rd April – pre-order here versand viagra.
You can read a sample chapter of the book here.
I know that Kavi's healing path, like most, was difficult and challenging, with setbacks and wrong turns, just as in any map-less journey. I'm very grateful to him for writing this book, as it will surely help those of us who take this journey after him to travel with perhaps a few more signposts on the road.